Journal Page 14
September 24, 2004
Day 39 (Arches NP &Telluride)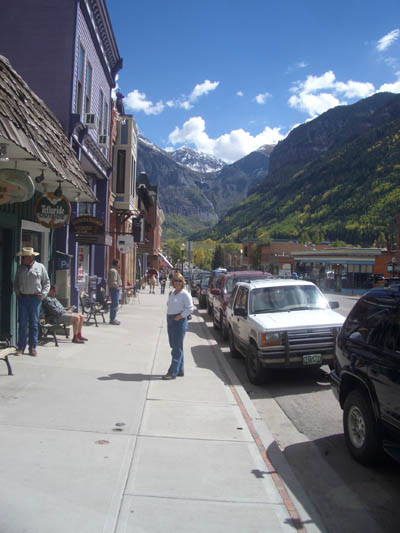 We left our campsite and took the 2 minute drive to the Arches National Park. We wanted to get to Telluride before dark so this park visit would have to be a short one. Realistically, we could have easily spent a few days here. The campgrounds were nice but full at the time of our visit. There are numerous hikes in the park, none of which we were able to take. Here is a trail head that starts out between some huge sandstone monoliths. We did do one quarter mile hike to Delicate Arch Overlook. The arches are formed by wind abrasion on the sandstone. Some are quite huge and all are very cool to look at. The park is high up on a mesa and has great views. There are a few jeep trails in the park also. We took a trail that led out of the park. The terrain looked like this. It was nothing like the trail we saw yesterday but it was still fun. We saw quite a few mountain bikers up there also. After that we headed north to I-70 into Grand Junction Colorado. Then south into Telluride. This town sits at 8750 feet above sea level. I'm not sure if it is the highest town in the states but I'll bet there isn't a prettier one. Telluride is a first class ski town in the winter and a festival town in the summer. There is some sort of festival there every weekend in the summer. Luckily for us the last summer festival was last weekend. It was the Blues and Brews Fest. It would have been nice to see that but not on this trip. There are thousands of people there and the hotels more than double their prices. So we were there on a good weekend. One added bonus this weekend was the start of the fall color change. We could see the trees getting more yellow and red by the day. We arrived in Telluride early in the evening. The first place we stopped at was the tourist information building. We wanted to get information on camping in the area. We originally thought that since it was friday night there would be some sort of event going on and everything would be too expensive or booked. We were wrong. There was nothing going on and there was a nice hotel, called the Victorian Inn, two blocks from Main Street for a great price. We were going to stay just one night and camp but figured that since this was our last true vacation stop, we wanted to do it up right so we booked two nights at the hotel. It turned out to be a great decision. It got down to around freezing this night and the campground at the end of town doesn't allow wood fires. Did I mention this town is beautiful. It looks like an old western town from the 1800's one main street with a bunch of little shops restaurants and saloons. The surrounding few blocks are filled with everything from quaint little houses to quaint big houses. Then there are the ski lifts that go everywhere. The entire town is surrounded by huge mountains. It's pretty incredible. After we got checked in to the hotel and unpacked we took a little stroll up and down main street to look at the shops and try to find a place to eat dinner. One thing became very clear while strolling around , this is a very expensive town to hang out in. All the restaurants that were open were very upscale. That is is not what we wanted to do at the time. We did find a tiny burrito place still open that had good food for only twice as much as we would pay at home. After dinner we checked out a few of the saloons. The one we liked the best was The New Sheridan. It has been there since 1895 and I have seen it in a Chevy truck commercial. After a couple Fat Tire beers we called it an evening.
Arches Pics
Balanced Rock Big View Trail Head A big hand On the rocks
Telluride Pics
Our balcony with gondolas in background
September 25, 2004
Day 40(Telluride)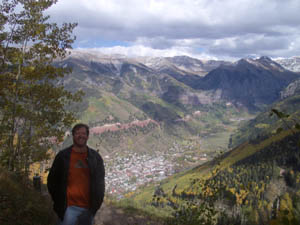 We woke up in Telluride. And this is a great room with broadband. I finally got my wireless card to work. Looking out the window, we noticed a lot more yellow on the trees than yesterday. First on the list today was breakfast. I used to frequent a bakery and bagel shop called "Baked in Telluride". It was unfortunately closed that day. So we found another bagel place up the street. Then we got in the car headed for Bridal Veil Falls. To access these falls we had to take a jeep trail at the end of town up a bunch of switchbacks. At the top of the falls is someone's house. The fall just kind of goes around the house before it pours off over the cliff. The house sits right on the cliff over looking the town. After that, we went back down and did a little sight seeing drive. Then we took a gondola ride to the top of the mountain and down to mountain village where the ski area is. The ski season doesn't start till November so the place was pretty dead. The gondola is free, and open from 7:00 AM till 12:00 PM. It's a municipal gondola and is kind of like riding a bus. Next we went back to the Sheridan for dinner and happy hour. There they had a nice old fashion couch by the front window so we hung out there and had a few beers till it stated getting a little late. We were going to call it an evening but then suddenly, we decided to take a night time gondola ride to the top of the mountain and look at the town. Once up there we wandered into the restaurant to have a drink. We found out that all the wine bottles were twenty percent off. Nice, and since we were wine experts, with being to Napa Valley and all, we decided to get one. The restaurant is called Allreds. It sits on the top of the gondola lift and has a great view of the town. This picture is taken with the night setting on the camera. It is our reflection in the window. Notice the lights of Telluride just below our reflection. Also the camera sitting on the water glass. What a fancy place it is. No hand dryers or paper towels in those bathrooms. It's fresh linens in a wicker basket. I went in there to wash my hands just for the hell of it. So after the second bottle of wine we took the gondola back down to town walked the two blocks to the room and then, called it an evening. And what a perfect evening it was.
What a perfect TRIP it was!!